HODL App - Everyday companion in the crypto world
Barbara Renata Lorincz27 September 2019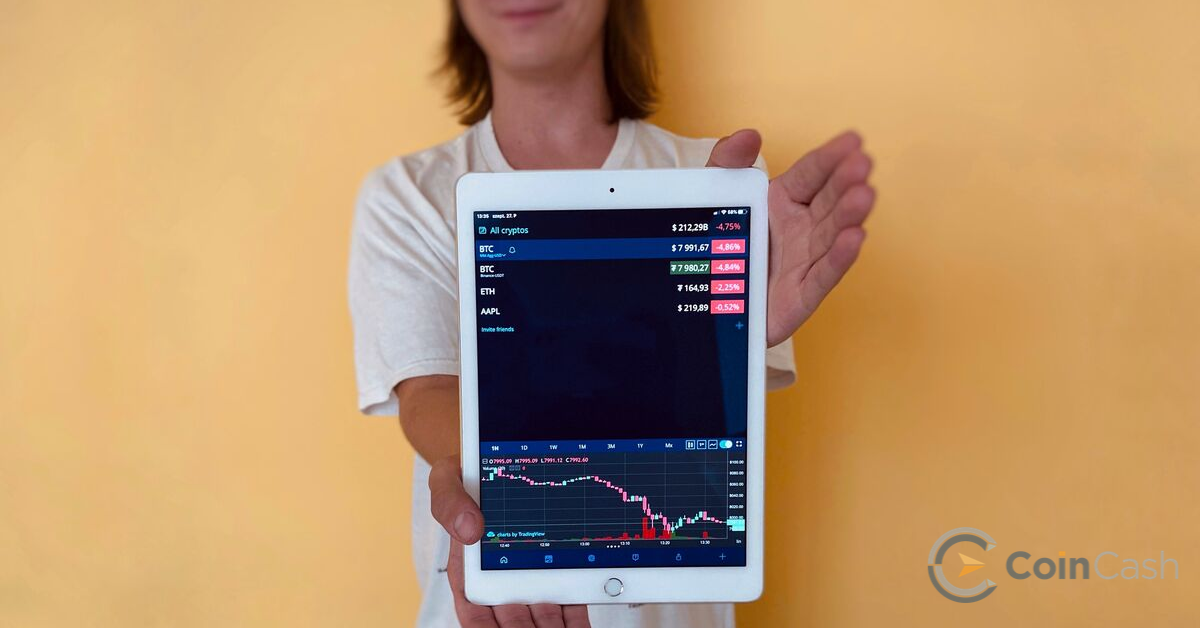 We all have apps on our phone that we use every day - for me, HODL is one of those apps.
Bitcoin, Bitcoin and more Bitcoin…
You're probably interested in why this app is so good. The answer is simple: It tells you everything you need to know about a cryptocurrency / Bitcoin exchange.
You can find the app on both the App Store and the Google Play Store by typing HODL in the finder.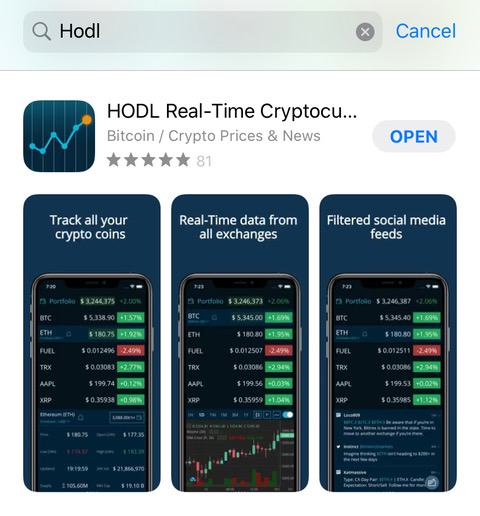 It should look like this when you search for it.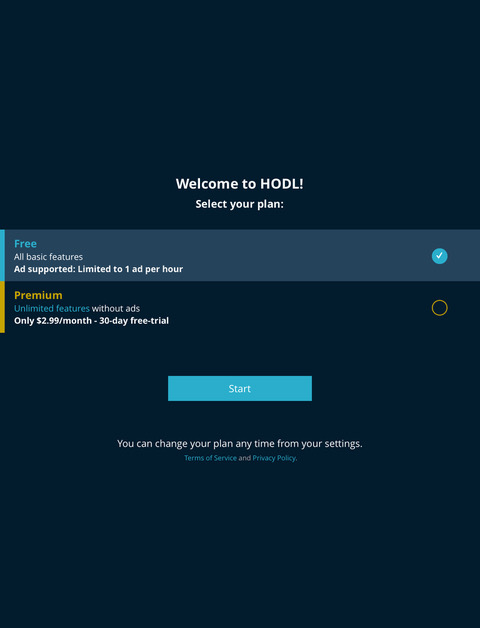 Once opened, you will see the image above, where you can choose between the free version or the premium version for $3 per month. I think it's a good idea to try the free version first because it works well for you, and then give a month to the premium one to prove its worth since you have a free 30-day-trial.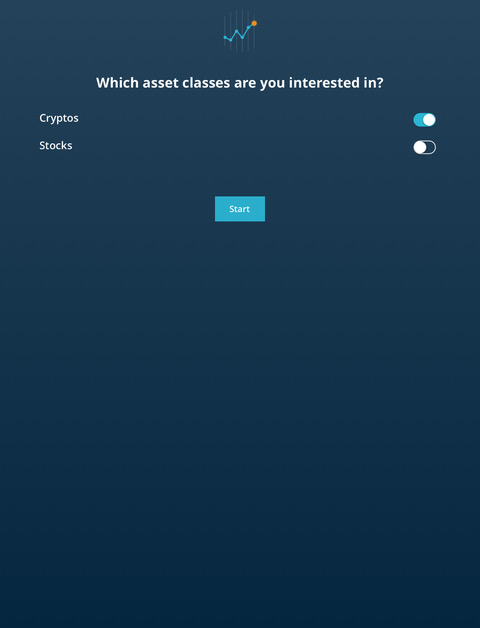 Once you have decided which version you want to go with, you should consider whether you want to see data about cryptocurrency or the stock market.
For the sake of the test, we have checked both of them now, but I think it's better to keep them separate on the regular.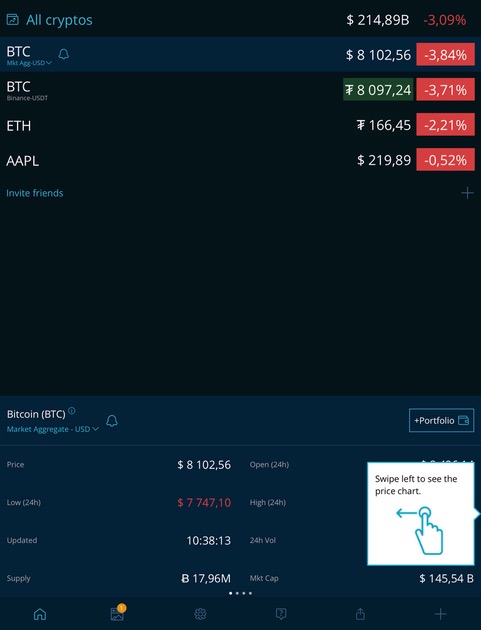 You will see the default setting on the home screen, but you can modify the list of cryptocurrencies and stocks listed here at any time. If you want to see the price of a particular stock exchange, just click the plus sign next to "Invite friends" to select the suitable pair from the list. Here you can even choose which crypto or fiat currency you would like to track the Bitcoin exchange rate.
It is important to note that the list of crypto exchanges and currencies is finite, so if you do not find one that you like, you have to pick one from the list.
At the bottom of the screen, you will find useful information about the Bitcoin price in this case, but if you are interested in another coin or stock, you just need to select it.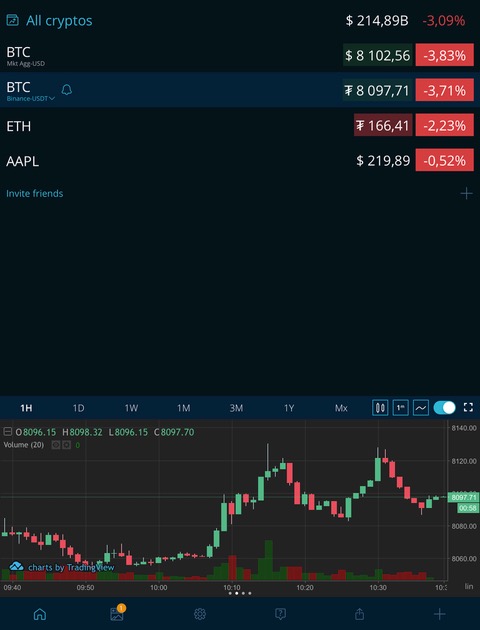 If you swipe right on the bottom of the image, you will see a price chart. Here you can pick how long you want the exchange rate to be displayed, change the chart to different varieties, specify the intervals between the candles, or even select indicators that will appear on a separate chart below the Bitcoin exchange rate.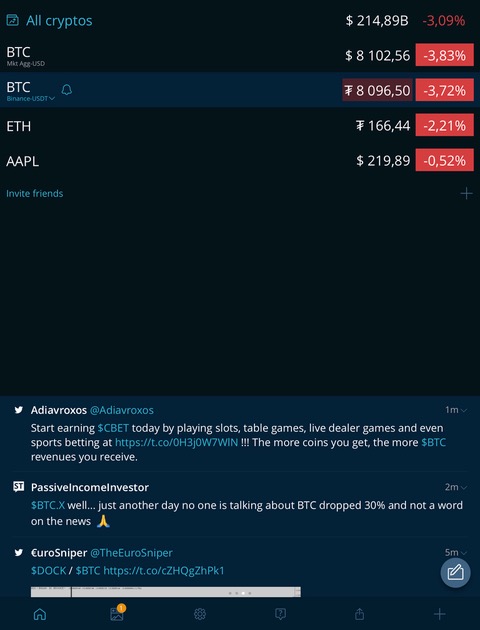 If you swipe right again, you will find relevant tweets related to the selected coin.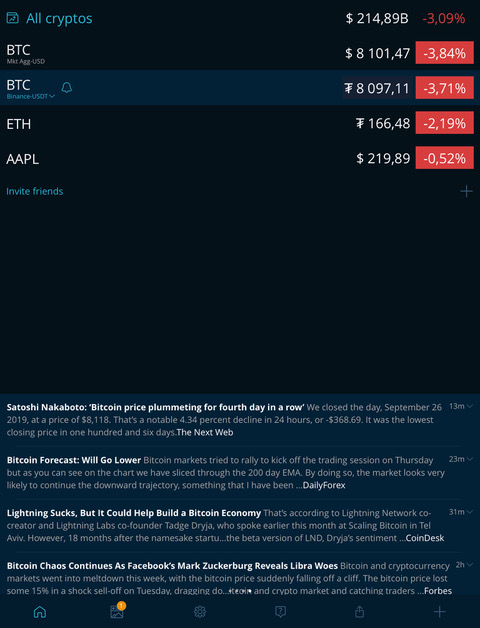 On the last page, you will find the latest news related to the coin you selected before. If you only want to read the most important news and want to learn useful tips and tricks, follow our blog weekly.
Click here if you would like to buy Bitcoin.
Click on the stars to rate the article! :)