Stablecoins at CoinCash
Tibor Rátz27 April 2020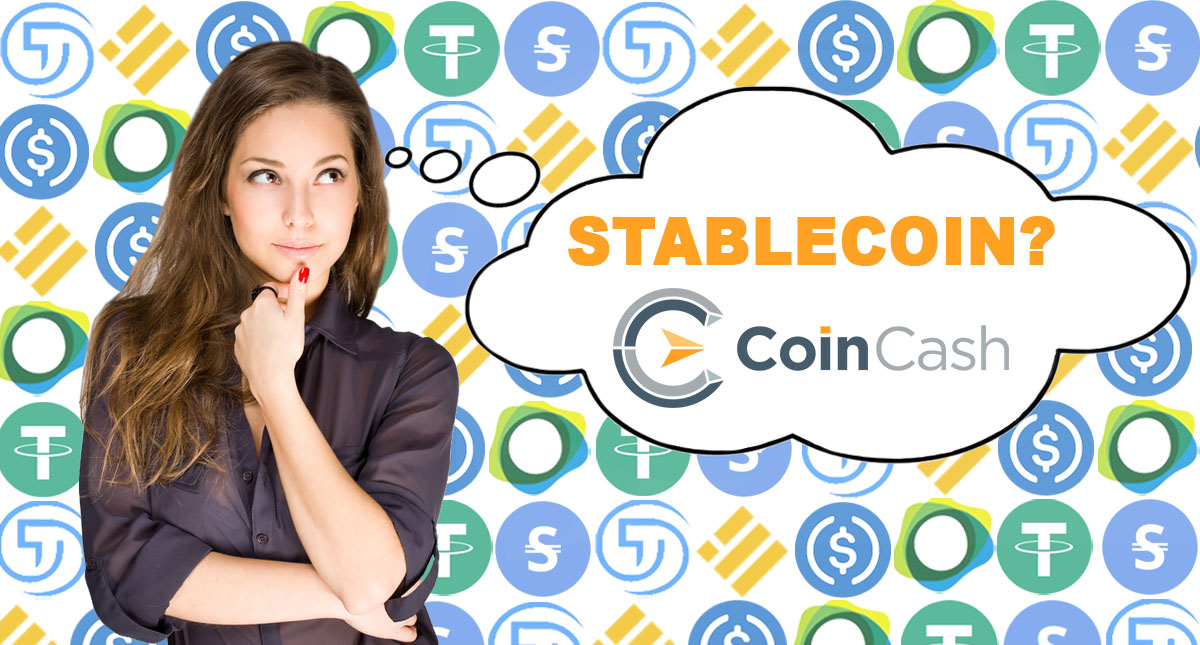 As of April 17, 2020, CoinCash's portfolio has been expanded with six stablecoins, meaning that online buying and selling transactions can be conveniently and securely initiated for USDT, USDC and BUSD, among several other coins.
We are constantly expanding the range of cryptocurrencies available on our website to meet the needs of our customers. In the beginning, we were only selling and buying bitcoin, but fortunately, it was only for a very short period, as the range of cryptocurrencies available was quickly enriched with litecoin, ether and bitcoin cash. The biggest change in this area came in early 2019 when the list of cryptocurrencies that could be exchanged at CoinCash rose to over 50. Now a new category is being added to the range. In the first round, six stablecoins are available in this category, these are:
If you are interested in these stablecoins, just click on the links above where you will find their price charts, detailed description and much more useful information. 
Paxos Standard Token (PAX)
This cryptocurrency combines the stability of the US dollar with the innovation of blockchain. Even the slogan of their website talks about that. A PAX token is always equivalent in its value to one US dollar. It is a stablecoin because its values are connected to a fiat currency. According to the founders, sending money should be as simple as pressing a button. That can be accomplished with blockchain. From anywhere to everywhere else we can easily send PAX tokens, for private and business goals as well. They are overseen by the New York Department of Financial Services. Regular audits ensure the trustability of this stablecoin. The end goal is a frictionless, open, innovative economy. PAX is an Ethereum based cryptocurrency, therefore it is an ERC-20 token. The founders chose this solution because of its flexibility, scalability and easiness of usage.
TrueUSD (TUSD)
According to their introduction, this is the very first fully regulated stablecoin that is connected in its value to the American dollar. TrueUSD is an Ethereum based cryptocurrency, and we can swap our ERC20 tokens for dollars at any time. Compared to traditional transfers these are a thousand times faster and cost one-hundredth of the price, due to the innovation of blockchain. We can easily send money from one place to another, which is an important promise of this project. They are very particular about the ethical norms that they set for themselves. Working together with authorities is one of the most important elements of this cryptocurrency. The general transparency of the project is also very important for the founders, but the key feature is that these tokens can be exchanged for dollars any time.
USD Coin (USDC)
This cryptocurrency in special, at least unusual in the sense that it has been established by a popular cryptocurrency exchange called Coinbase. Its value is connected to a fiat currency, in this case, the American dollar. One USDC is equivalent to one US dollars, and we can exchange our coins for dollars anytime. USDC is an Ethereum based cryptocurrency, therefore this one is also an ERC20 token. Coinbase, the company behind this project guarantees that the tokens have their dollar backing. Dollar collateral is stored on a bank account which is always accessible. There are many reasons why the founders of this project choose Ethereum as the basis as of their blockchain. One of them that we don't need a new cryptocurrency wallet if we wish to purchase USDC. We can simply use any ERC20 token wallet that we might already have. The transfer fees are extremely low, we can easily transfer these tokens from any part of the world to any other, regardless if our transfers are private or business based.
Stably USD (USDS)
This cryptocurrency has been created on the Ethereum platform, therefore this is an ERC20 token. Being a stablecoin the price of this token is always connected to a Fiat currency, in this case, the US dollar. The price of the token is always guaranteed by the founders of the project. Stably ensures the investors that they have the proper amount of dollars behind the project to guarantee the value of the tokens at all times. The basic idea of stablecoins came from the high levels of volatility cryptocurrencies show on the market. If everyday users experience high volatility, they cannot spend their money on everyday items, therefore, it loses its basic purpose. Apart from Stably, this company deals with several other stable coin projects as well.
Tether (USDT)
This is one of the first and one of the most well-known stablecoins in the cryptocurrency market. As most stable coins, USDT is also using the US dollar to ensure the value of every token. The goal of this stable coin is to avoid the high levels of volatility that are usually on the cryptocurrency market. The goal is to build trust among users with the backing provided by the US dollar and to avoid the high levels of volatility at the same time. With these two factors, mainstream adoption can be possible according to the hopes of the founders of the project. The slogan is "digital currency for the digital age" which tells everything about the aim of this cryptocurrency. They always emphasize transparency, from time to time they provide reports about their dollar reserves used as backing in the life of this stablecoin. This is not their only project, they also have a stablecoin named Tether Gold, as the name suggests, its backed by physical gold.
BUSD
BUSD is a stablecoin which has been created by the popular cryptocurrency market, Binance. As most stablecoins, this is also backed by a fiat currency, as in most cases, here too the American dollar. BUSD is an Ethereum based project, there is one USD backing each and every token. Binance does not charge any commission when buying BUSD, not even during the exchange of the token for USD, this is how they try to speed up the adoption. Binance also has its lending platform, where anyone can receive coins, tokens.
If you want to buy or sell any of these coins, just log in or register and place an order with us.