Surprising names cryptocurrencies have been called
CoinCash6th of May, 2022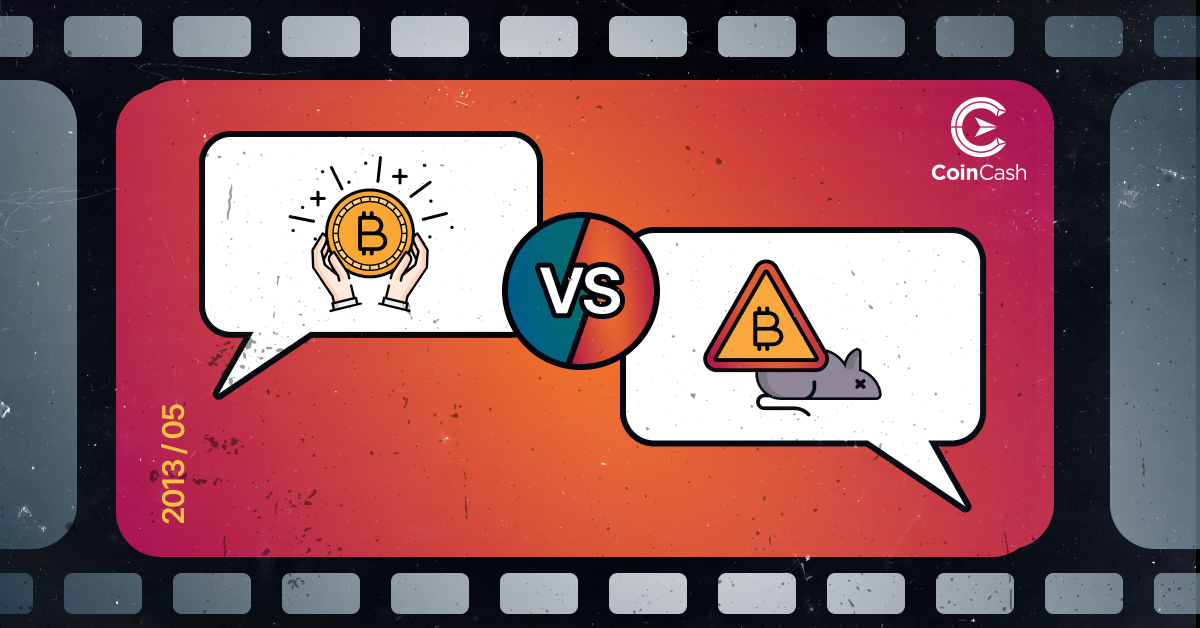 Exactly nine years ago on this day, Bill Gates, one of the richest people in the world at the time, spoke positively to Fox about the leading cryptocurrency and said that Bitcoin is a "technical tour de force," an uplifting invention whose performance is noteworthy, but it is still an area where governments will play a dominant role. In the same interview, Charlie Munger, Warren Buffett's said the opposite as Bill Gates, and he called Bitcoin a "rat poison". Warren Buffet played it safe, saying "I think either Charlie or Bill is right." If you woluld like to watch the interview, click here!
What Bitcoin has to do with those poor rats is perhaps only clear to the experts, but Buffet was keen on the term, and in 2018 he mentioned the cryptocurrency as "rat poison squared". Not so long ago Munger named our beloved cryptocurrency as "sexual misconduct". But that's probably nothing compared to the way the rest of the gurus feel about Bitcoin.
They had no mercy on Bitcoin
Junk! That's how cryptocurrencies are described by the CEO of financial giant Mastercard, Ajaypal 'Ajay' Singh Banga, simply because he thinks the digital assets are too volatile and can be used for illegal activities…luckily fiat currencies can be used only for legal activities. In any case, he liked the idea of Libra, the cryptocurrency of Facebook, as Mastercard was a proud supporter of the Libra Foundation.
In 2017, Prince Al-Waleed bin Talal bin Abdulaziz Al Saud, better known as Al Waleed, claimed that bitcoin was "an Enron in the making" (referring to the financial fraud, the world's biggest bankruptcy at that time). Ironically, less than a month after his statement, the prince was arrested on charges of money laundering, and all his financial activities were frozen by authorities.
According to JP Morgan CEO Jamie Dimon, "if you're stupid enough to buy bitcoin, you'll pay the price for it one day", but it hasn't stopped him from launching JPM Coin, his digital currency. Then there's the famous economist Nouriel Roubini, who says that "crypto is the father of all scams and balloons", and of course Bill Harris, the former CEO of PayPal, who is betting that Bitcoin will drift to zero.
The author of Harry Potter was not enchanted by the leading cryptocurrency
The author of Harry Potter was quite patient with the cryptocurrencies in the early stages of their relationship and turned to the crypto community for some explanation. Well, even Elon Musk himself got in on the act to help set things right, but in the end, J.K. Rowling marked one tweet as her favorite explanation that says "Imagine that something exists which doesn't exist. That's Bitcoin". Well, it was the irony of fate that some scammers used phishing accounts with the image of the novelist to steal cryptocurrencies.
Now, what is behind these statements will perhaps forever remain a mystery, and who are we to judge these words of billionaires… Fortunately, there are quite a few people who trust cryptocurrencies, they are praised, and the number of crypto fans is growing. We believe in crypts and that this is the future and nothing else matters!
Click here if you would like to buy Bitcoin.
Click on the stars to rate the article! :)