The market turns green; Bitcoin price is over $ 8,200
Barbara Renata Lorincz21 October 2019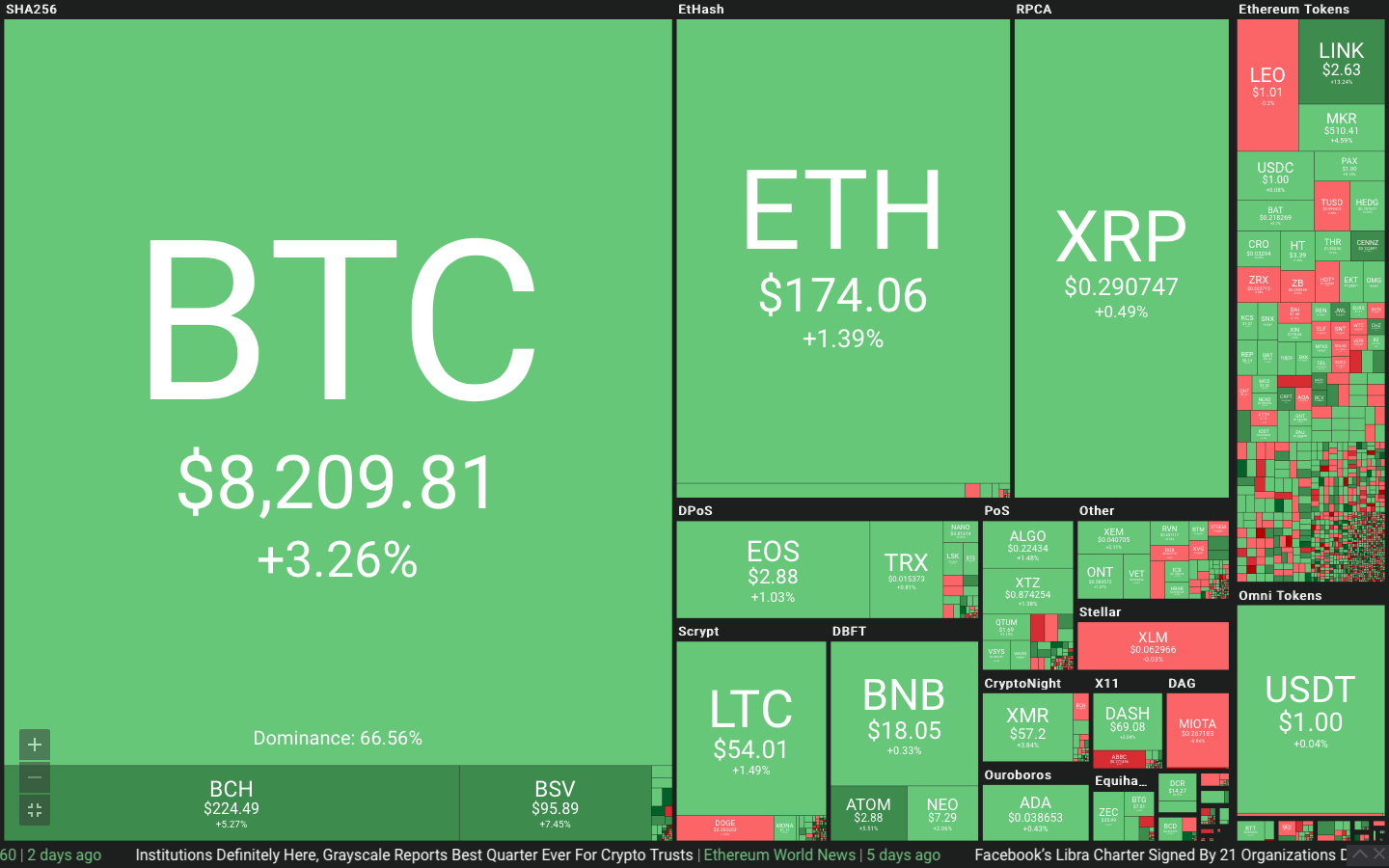 The crypto market is slowly turning green and Bitcoin (BTC) is showing signs of recovery as it returns above the $ 8,200 mark - says Cointelegraph's recent report.
Bitcoin has been trading below the $ 8,000 mark for the most part but is showing signs of recovery over the past few hours. The world's largest cryptocurrency fluctuated around $ 7,950 at night and yesterday before reaching the current $ 8,209 trading price. This gives you a BTC gain of 3.26% in the last 24 hours.
Two days ago, 18 million BTCs were mined, leaving "only" 3 million minable Bitcoins in the world. That was enough reason for the crypto-sceptic Peter Schiff to say that the future of Bitcoin "looks horrible" and it is only a matter of time before the price of the most popular cryptocurrency will experience
rapid descent down to $4,000 or lower!
Meanwhile, Ether (ETH) is currently trading around $ 174.34. The number one altcoin, in sync with BTC, has gained 1.5% in the last 24 hours.
The Ripple (XRP) is a bit behind the market in terms of exchange rate. The third-largest coin based on market capitalization is currently trading at $ 0.2907, up 0.49% over the past day at press time.
The 20 most popular alt flourishes as well
Each of the top 20 coins is in the green area, with some smaller, modest gains, while other tokens are soaring. Cosmos (ATOM) and Chainlink (LINK) are both leaders in the Top 20 with 6.51% and 13% daily profits, followed closely by Bitcoin Cash (BCH) at 5.27%, over the past 24 hours.
Click here if you would like to buy Bitcoin.
Click on the stars to rate the article! :)